Palm Springs enjoys a warm, dry, climate moistened by less than six inches of water a year. Winters are mildly warm, as you can see by the charts below.
The climate is influenced by Palm Springs geography. As any one who flies into Palm Springs airport knows, Palm Springs sits on the western edge of the Sonoran Desert at the base of the Santa Rosa Mountains: the Little San Bernardino mountains to the north, the Santa Rosa range to the south, and the San Jacinto Mountains to the west.
The elevation of Palm Springs is 487 feet above sea level.
"The Season" in Palm Springs
Palm Springs is is known for its 354 days of sunshine. The rainfall over the year is paltry, amounting to fewer than 6 inches. Most of that rain falls December through February. It's hard to find a drop of the stuff in June.
October 15th is the official start of the Palm Springs season, although many returning folks target January and February for their visits. October through May is the most desireable time to go, as the weather is mild, mostly sunny, and what little precipitation there is is over quickly. Surprise heavier rains can produce quick flooding in winter, though, so be careful if you're traveling in the desert at this time.
Current Weather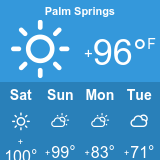 Palm Springs Climate and Historic Weather Charts
Below are the historic high and low temperature charts and average rainfall in Palm Springs throughout the year.